Winesworld is a friendly Red Wine
Taste Guide with Tasting Notes.





Welcome to Winesworld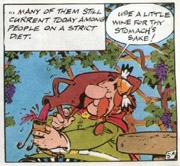 Food and Wine - The result shows not all the wines, but a selection of some we have tasted in recent years.
If you like to see all the result for food, just search on for instance steak in the search field on the top.


Wine to Pepper Steak - Food and Wine
Click on the wines to read the tasting notes and all info.
Wine to Pepper Steak
ad




Free of banner ads if you are registered and logged in.